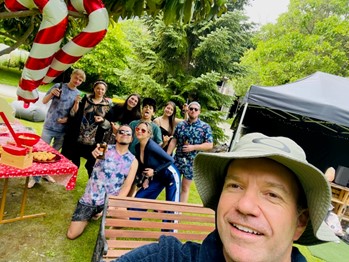 News
Regional Business Partner Case Study: Black Sheep
Business: Black Sheep – Tourism | Accommodation
Client Name: Matt Price
Location: Queenstown, Queenstown Lakes District
Opportunity: Wellbeing, Digital Marketing, Accounting and HR
"The team are really happy in a safe and secure space which I am so happy with. It has been a really nice pivot for us to focus on the staff so much with the gift of time COVID has given us.
This support has been integral to keep the company culture moving in a positive direction despite obvious financial challenges. It has also helped us to accept certain contingency plans which may have otherwise been hard to understand or accept."
Black Sheep is a long-standing backpackers that targets couples, families, long termers, and of course, backpackers. They are well renowned for their great staff care and customer service, which they hold at the core of their operations.
Whilst COVID-19 caused large revenue losses for the business, it also created an opportunity for Black Sheep to re-assess their business management practice, make positive changes towards navigating through challenging times, and prioritise staff wellbeing. This is where Otago RBP came into play.
Black Sheep, with the help of their Growth Advisor Nicole McFarlane, accessed the Tourism Communities Fund and connected with several providers (McDonald Perniskie, Fully Charged Media, Collective Consulting, and The Breath Effect) who provided them with accounting, digital marketing, HR, and their primary focus, wellbeing support.