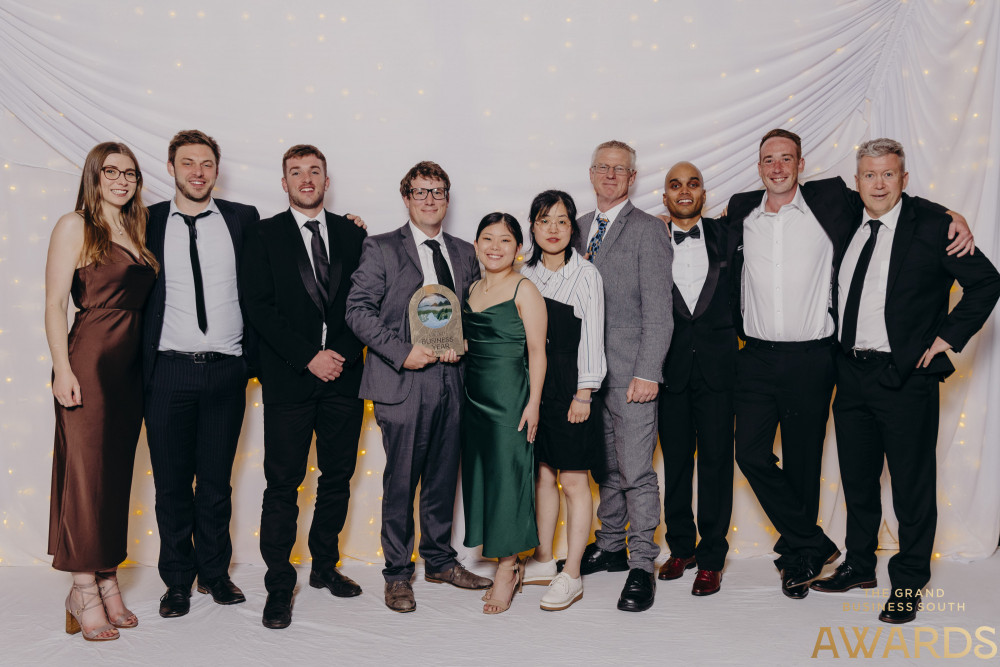 News
Oritain Global named Supreme Grand Business of the Year
Congratulations to Oritain Global Limited, which won the Supreme Grand Business Excellence Award for outstanding business success at this year's The Grand Business South Awards.
The Otago-based company scientifically verifies the providence of food, beverages, fibres and pharmaceuticals, and grew from its origins at the University of Otago into a niche player in a specialised area of the global market. The company also won the Excellence in Science and Technology Award.
"Oritain Global Limited's science-based solutions are solving a growing global problem by protecting brand reputations throughout the world from opportunists who attempt to defraud, counterfeit and exploit the brand endeavours of our most impressive global exporters," the judging panel commented.
The Grand Business South Awards are the southern region's premier celebration of business excellence, held every two years. In 2022 – the Awards' thirteenth outing – there were 54 finalists represented across 18 categories.
This year, the judges introduced a new category – The Young Entrepreneur Award – to acknowledge an emerging entrepreneur with limitless potential in the business community. The judges described 16-year-old Georgia Latu of Pōtiki Poi as a true entrepreneur who has taken her love of poi and shared it with the public throughout retail sites across New Zealand.
And the Leader of the Year winner was Josie Spillane, the CEO of Highlands – Experience the Exceptional. The judges said Josie's leadership and enthusiasm for her company, staff and customers were infectious. "She has broken the glass ceiling in the world of motorsport in New Zealand and drives a diverse portfolio of businesses surpassing all corporate goals," they said.
The judging panel was impressed by the calibre of this year's applicants and thoroughly enjoyed hearing about their successes and their inspirational leaders.
"We are grateful to the panel for their time and dedication in assessing over 100 applications and interviewing all shortlisted candidates," says Mike Collins, Chief Executive of Business South.
The judging panel was made up of Dominique Dowding (The Grand Casino), Jarrod Chisholm (Findex), John Guthrie (Transition to Work), Frank Gibbons (Air New Zealand) and David Kiddey (Kiddey Consulting), supported by specialty judges Ronda Tokona, Janine Tindall-Morice, Angela Davis and Matthew Holdridge.
Photos of the evening are available to view and purchase online
The winners of The Grand Business South Awards 2022 are:
Supreme Grand Business Excellence Award: Oritain Global Limited
Leader of the Year: Josie Spillane, CEO, Highlands – Experience the Exceptional
Distinguished Leader Award (chosen by Dunedin Mayor, Jules Radich): The Marsh Family
Young Entrepreneur of the Year: Georgia Latu, Pōtiki Poi
People's Choice Award: Whistle & Pop
Excellence in Service: Fable Dunedin
Excellence in Retail: Mitre 10 MEGA Wanaka
Excellence in Tourism and Hospitality: iFLY Indoor Skydiving Queenstown
Excellence in Not for Profit: (Tie) Mirror Services; and Whakaata Tohu Tohu and Kiwi Harvest
Excellence in Primary Industry: Mataura Valley Milk
Excellence in Manufacturing: United Machinists
Excellence in Science and Technology: Oritain Global Limited
Excellence in Exporting: Farra Engineering
Emerging Business: Pro Civil Construction Limited
Māori Business: Youth Employment Success
Brand Strategy and Planning: Richard Joseph & Associates
Innovation: GetHomeSafe
Business Sustainability and Resilience: Preens Apparelmaster and Linenmaster
Business Integrity: Tolcarne Boarding Residence
Workplace Injury Prevention: Downer NZ

The Grand Business South Awards owe a debt of gratitude to the following generous local and regional sponsors: The Grand Casino; Business South; Forsyth Barr; Otago Daily Times; Otago Community Trust; Anderson Lloyd; Centres of Asia-Pacific Excellence; Grow Dunedin Partnership; Enterprise Dunedin; FINDEX; New Zealand Media and Entertainment; University of Otago Business School; Otago Polytechnic; Craigs Investment Partners; Clutha Development; Business New Zealand; Invest Hong Kong; Spark NZ; Workforce Central Dunedin; Allied Productions; Doug Kamo Creative Management; Strawberry Sound; Acucut; Mitre 10 MEGA Dunedin; Gravity Events.