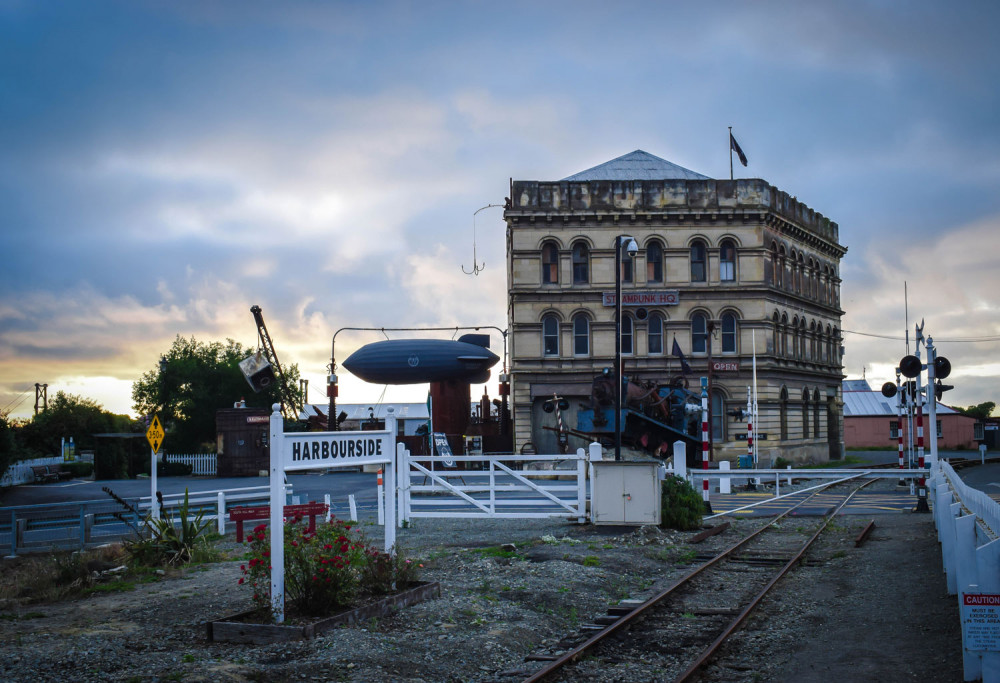 Waitaki Business Awards
Celebrating local business success in Waitaki.
The awards process takes place over the months of June and July. Please nominate your favourite business after viewing the "Discover Businesses" list (at the bottom of the page), and then select the applicable category when completing the nomination form. Any business that's been operating for less than three years can be nominated in the New or Emerging category and may not be listed in the discover business button. Through our partnerships with The Oamaru Mail you will then get the chance to vote for the winner of each category. Thank you for joining us in celebrating business in The Waitaki.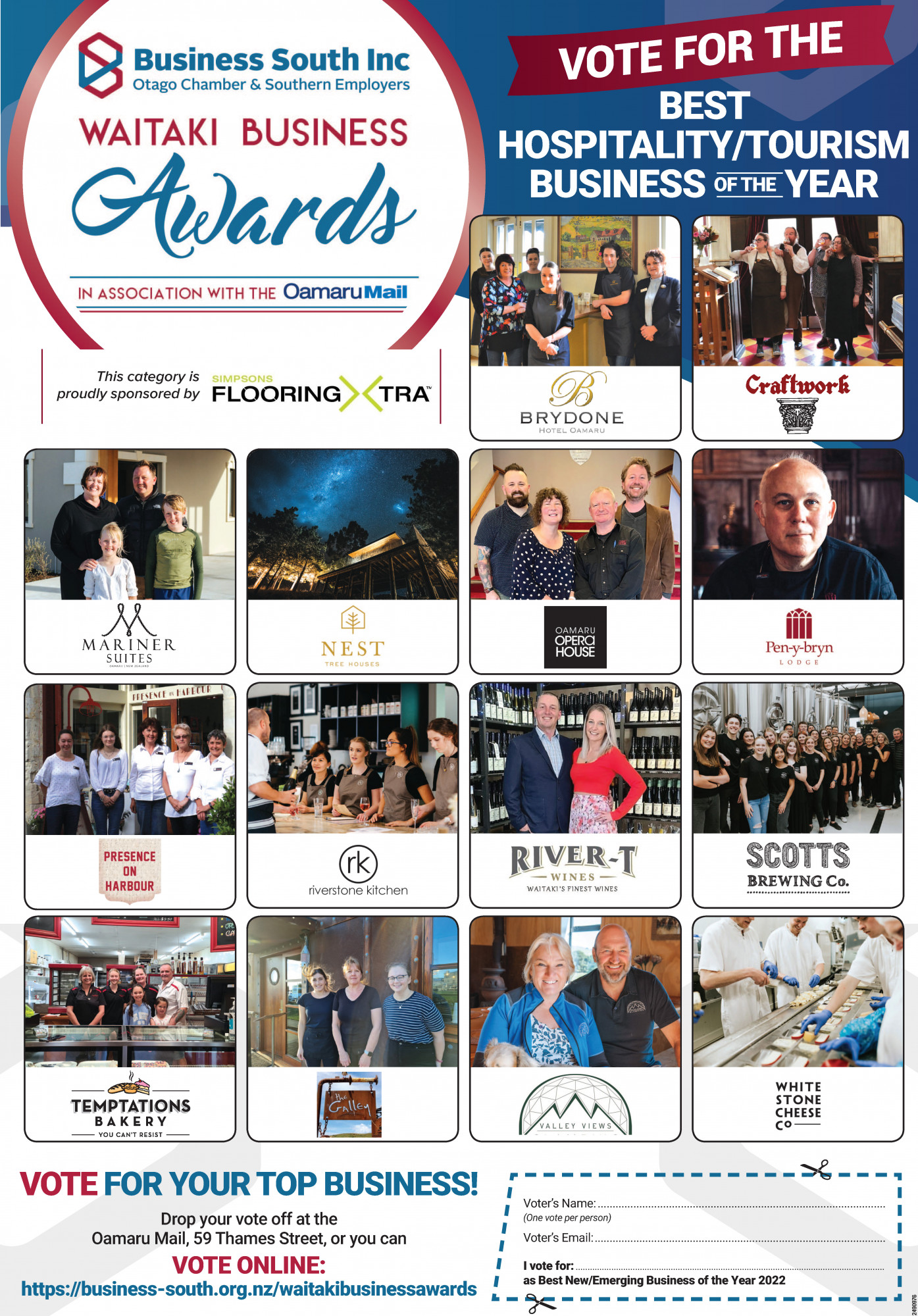 Please select nominee from businesses pictured above
---
A J Cox Shearing Ltd
A J Wood Chartered Accountants Ltd
AcuCut Ltd
Adore Skin Spa
Airfoama Developments Ltd
Amanda Fleming
Anaro Investments Ltd
Aorangi Customs & Freight
Apex Engineering
Art on Tyne
Awamoa Bins & Skips
Ballantynes Showcase Jewellers
Banks's Building Services Ltd
Barcode Products
Barnett and MacMurray Ltd
Binxi Foods NZ Ltd
BP2go Oamaru
Brews & Bites
Bruces Barber
Brydone Hotel
Calect Electrical Ltd
Canterbury
Canterbury Spinners Ltd
Central South Island Helicopters
Cinderellas Wardrobe
Conex
Confidence Can...
Craftwork Brewery
Crew Cut Home Services
Crombie & Price Ltd
Crombie Lockwood - Oamaru
David Reid Homes Waitaki/South
Davin Healthcare Ltd
De Geest Construction Ltd
Dean & Coleman Law
Delectables Bakery
Design Federation
Dominator Garage Door Centre, Oamaru
Dunedin City Motors - Oamaru
E. S. Cleveland & Son Ltd
Easy Made Marmalade Ltd
EGL Pastoral
Farmers Mutual Group
First Start Accounting
Foleys
Forgie Hollows & Assoc. (Oamaru) Ltd
Geypen Farms Ltd
Gillies Metaltech Ltd
Graves Saddlery
Graymont NZ Ltd
Great Southern Oamaru
Guthrie Bowron Oamaru
Halalele Design
Harbour View Rest Home 2005 Ltd
Hayley Casey Photography
Health 2000 Oamaru
Hi Flo Plumbing 1992 Ltd
Hope & Associates Legal
Housekeepers Design
Hyde Boutique
I-DEAL Furniture & Appliances
i-Design
Inspirationz
Ireland Engineering Solutions
J E Paisley Ltd
Jane Harmony Blake
Jeffrey Dennison Builder Ltd
Kennard Construction Ltd
Lover Lover
Mainstreet Sound Hire
Mariner Suites
McBrimar Homes
McGregors Trading Group Ltd
McKenzie & Co Ltd
McKeown Group Ltd
McLean & Co
Milligans Food Group Ltd
Moa Bakery, Cakery
Morcomm Systems
Moreweb NZ
Mortimers Garage
Movement Hub
My Skin and Beauty
Neat Feet
Nest Treehouses
Network Waitaki Limited
New Zealand Airline Academy Ltd
New Zealand Pet Food Ltd
North Otago Art Society Inc
North Otago Irrigation Company Ltd
North Otago Motor Group
North Otago Pharmacy
Northstar Complex
O'Neill Enterprises Ltd
Oamaru IPL & Beauty
Oamaru Mail/ODT
Oamaru New World
Oamaru Opera House
Oamaru Sports & Outdoors
Oceana Gold (New Zealand) Ltd
Open Parallel Ltd
Otago Fresh Milk
Paper Plus Oamaru
Parkside Quarries Ltd
Pen-y-bryn Lodge
Phil Cleland Shearing Ltd
Plunket Electrical 2005 Ltd
Poshtel
Preen
Presence on Harbour
Property Brokers Oamaru Branch
Q B L Transport Ltd
Rainbow Confectionery Ltd
Real 104FM
Rebellious Rose
River-T Wines
Riverstone Kitchen Ltd
Road Metals Co Ltd
Rose Tautari
Roses General Store & Information
Sandringham House Rest Home
Scotts Brewing Co.
Sidekick Oamaru
Simpsons Flooring Xtra Oamaru
SJ Details
Snap Fitness
Soul Surf and Skate
Stafford Recruiting
StaffServices Ltd
Steve McLeod Contracting Ltd
Style 358
Survey Waitaki Ltd
Sutherlands Mens and Ladieswear
T C's Tyres Ltd t/a Advantage Tyres
Te Runanga O Moeraki
Temptations Bakery
The Business Hive
The Florist Oamaru
The Galley Cafe
The Natural Dairy
The NZ Whisky Co
The Oamaru Whitestone Civic Trust
TK Cleaning Services
Topflite Ltd
Tourism Waitaki
Tracey Vickers Design
Valley Views Glamping
Vantage Aluminium
VBA Limited
Waitaki Boys High School
Waitaki District Council
Waitaki District Health Services
Waitaki Flooring First
Waitaki Interiors
Waitaki Resource Recovery Trust
Whitestone Cheese Co
Whitestone Contracting Ltd
Whitestone Funerals
Whitestone Panel Paint & Coach Ltd
William Bee General Merchants
Work & Income Oamaru
Workbridge Inc Oamaru
Young Motors